The Science of Attraction
Chemical Attraction
"Chemistry" is a feeling feeling you get when you meet someone in-person, it's first sensed by your nose and then your body responds subconciously. Scientific research has demonstrated that people with differing DNA markers find each other's scent to be pleasant and are more likely to have a lasting romantic relationship.
Upload your DNA file now!
Personality Compatibility
Our personality compatibility rating is based on the Myers-Briggs 16 personality types. We put maximum weight to similar personality types and less weight to personality types that tend to clash.



Take our free personality test
"Within the world of human olfaction, there seems to be no perfect mate but a perfect partner and this depends on HLA match."
Influence of HLA on human partnership and sexual satisfaction
Kromer et al., 2016
"The importance of MHC-based indices was comparable to that of a partner's self-reported personality attributes in predicting second date offers."
More than skin deep: Major histocompatibility complex (MHC)-based attraction among Asian American speed-daters
Wu et al., 2018
"Hormonal contraceptives change women's natural mate preferences, leading them to prefer nurturing but less genetically compatible men. Cessation of contraceptives reverses these preferences, decreasing women's attraction to current partners."
The Bitter Pill: Cessation of Oral Contraceptives Enhances the Appeal of Alternative Mates
Birnbaum et al., 2019
DNA Romance Takes the Guesswork Out of Online Dating
CHEMISTRY - Romantic chemistry is measured by information from DNA markers
PERSONALITY - Personality compatibility is calculated using personality types/psychology
PHYSICAL ATTRACTION - Check out their pictures to see if there's physical attraction
COMMON INTEREST - See if their common interests align with yours
Sign Up Now!
Filter your matches based on distance, age and personality compatibility, or find someone who shares the same religion, speaks the same languages, shares movie preferences, or has other specific attributes you seek. Our user verification scores total 100% when the user has uploaded a verified DNA file, entered a valid credit card, confirmed their email address, and have completed their profile.
Find Your Soulmate Now
How to submit your DNA test
*Note: You don't need a DNA test to get your matches! Your personality type is enough to get you started.

**Note: All DNA sequencing tests will provide the same raw data; analysis of that data will vary from company to company.
Already have your DNA test data?
STEP 1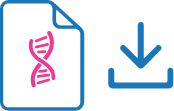 Download and save your raw autosomal DNA file
(To download your raw autosomal DNA, see your profile at 23andMe, Ancestry DNA, Family Tree DNA, We Gene, My Heritage, Genes For Good, Vitagene, or Living DNA and more)
STEP 2

Upload the file during sign up
or later when you edit your profile
Upload Your File Now
See more details

Do you need a DNA test?
STEP 1
Purchase a DNA testing kit for just $29 USD, when you purchase a 12-month premium subscription.
STEP 2
Receive a DNA testing kit in the mail, follow the instructions to collect your DNA sample, then mail it to the laboratory
STEP 3
Once the lab genotypes your DNA sample, you will receive predictions of chemistry compatibility with your matches
Purchase Now!
See more details