Already have your DNA test data?
STEP 1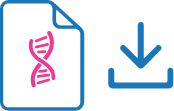 Download and save your raw autosomal DNA file
(To download your raw autosomal DNA, see your profile at 23andMe, Ancestry DNA, Family Tree DNA, We Gene, My Heritage, Genes For Good, Vitagene, or Living DNA and more)
STEP 2

Upload the file during sign up
or later when you edit your profile
Upload Your File Now
See more details

Do you need a DNA test?
STEP 1
Purchase a DNA testing kit for just $29 USD, when you purchase with a 12 month subscription to our premium membership
$69 USD for purchase without 12 month subscription
STEP 2
Receive a DNA testing kit in the mail, follow the instructions to collect your DNA sample, then mail it to the laboratory
STEP 3
Once the lab genotypes your DNA sample, you will receive predictions of chemistry compatibility with your matches
Purchase Now!
See more details